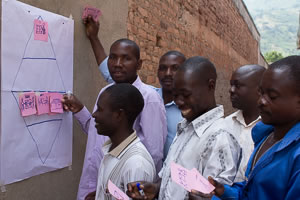 GALS facilitation
Gender transformation is an exciting process of self-empowerment and exploration, a process of breaking barriers that prevent men as well as women from achieving their full human potential. It is a key task of GALS facilitation is to inspire an excitement and enthusiasm for change. All GALS workshops and meetings aim to help people:
- vision how their lives, families and communities could be in a more gender equitable world
- identify achievable steps to change that they can implement immediately and also over the longer term
develop partipatory, listening and leadership skills
-build confidence and creativity in visual communication, songs and theatre
- form new friendship networks within which women and men treat each other as equal human beings.
- develop facilitation skills to become champions of change in their households and communities

In GALS common human rights and concepts of gender justice are progressively internalised as 'natural' through fun processes: drawing, songs and theatre. This then transforms perceptions of men as well as women, and inspires them to share what they have learned with others. As the basis for a sustainable movement for social justice, in which women's equal human rights are an integral and no longer questionned element.